Piedmont

High School




Class Of 1963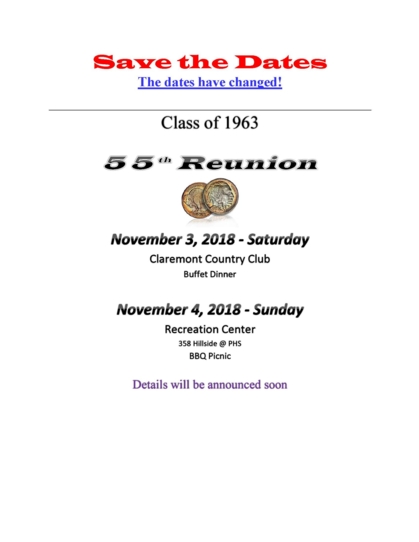 Our website is pretty good and often updating and adding features. In our Profiles they have now added places for four more photos and made it easy to add them. Each one is in a grayed inactive frame and they are titled Master (recognizable?), Then, Now, Yearbook or Grad and Videos.
After you Log In to the site, an area appears in the lower part of the yellow area titled Member Functions. Just click on "Edit Profile". Then you can mouse over each frame and it will change to let you add a photo to that location.
It's a simple way to add some interest to your profile without having to write anything. As always, if you need assistance, contact Jeff or Jim.
---
Websites for other PHS Classes
Listed below are the addresses of other PHS class websites for you to review. You can see most all of a site without a password.
All of these classes use the same basic format with very few variations on details. Each class has their own policy in regard to passwords or guests.
Click on "Contact Us" on any website if you wish alumni assistance for passwords. PHS alumni are well received.
1959: http://www.piedmont59.com
1960: http://www.piedmonthigh1960.com
1961: http://www.phs61.com
1962: http://www.piedmonthigh1962.com
1964: www.phsclass1964.com
If you know how to contact any of the classmates listed below please contact :
Jeff Robinson, PHS 1963 (Classmate) jeff-r@comcast.net (707) 297-6053 or
Jim Livingstone, PHS 1960 (Webmaster) JWL459@comcast.net (925) 216-1898
Ten Aun Hwang
Robert Lowery
Stella Wong